26 Feb
It pays to read k2.com. Not always, but definitely in this case. Just to refresh your memory, I posted an entry here about a class action suit against the music industry for price fixing called the CD Minimum Advertised Price Antitrust Litigation Settlement, urging you to sign up at their website. I was pessimistic, having seen efforts like this fail before, that any money was actually going to arrive as a result.
Boy, was I wrong. Just a day or two ago a check for $13.86 arrived in the mail, courtesy of the Attorney General of Virginia, Jerry Kilgore. This is what it looks like: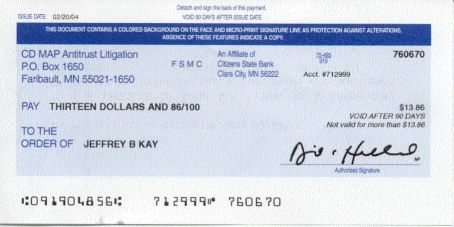 The note attached to the check reads in part:
Dear Virginia Music Purchaser:As Attorney General for the State of Virginia, I am pleased to enclose payment for your claim in the settlement of the Compact Disc Minimum Advertised Price Antitrust Litigation. The lawsuit was brought by the Attorneys General of 43 states and three territories and by counsel for Private Class Plaintiffs on behalf of purchasers of music CDs. In accordance with the terms of the court-approved settlement, payment is being made to music purchasers who filed a valid and timely claim.
...
It is a pleasure to bring this matter to a satisfactory conclusion and to return value to consumers who purchased CDs while the challenged pricing policies were in effect.
Jerry W. Kilgore
Attorney General of Virginia
Well, thanks Jerry!